Regular price
Sale price
€0,00 EUR
Unit price
per
Sale
Sold out
Please contact us using the form below if you are interested in this product:
Share
Original oil painting 
1000 x 1500mm x 35 mm Handmade Stretched Canvas on thick braced stretcher
Strong wire to the back ready for your wall.
One of my LARGE paintings with a good deal of detail that took many weeks to complete.
This painting was inspired by my collection of Australian Pottery from the 1940's and this particular piece which came from the Cornwell Pottery in Brunswick Victoria. 
As it is my name sake it is particularly special to me and I wanted to acknowledge the family connection by adding to my artwork.  The depth of glaze and earthy colours are such a delight to paint on these early pottery pieces.
The fabrics depicted are also Vintage but from the 1970's. The purple pattern a typical sheet pattern from that time as seen on many childhood single beds! The base fabric also dates from that time but is a thicker piece so would have more likely used in clothing. 
The blue budgie a favourite bird from childhood who was called "Bubbles" and one of a pair (the other budgie features in a matching painting)
The flora featured consists of pieces hanging over the fence from the local Botanic gardens in Olinda and from a roadside flower stall. If they hang over the fence its ok to take a piece but not from inside the gardens! 
I loved working with this idea that I have painted two large canvases with a similar theme. They can be hung together or separately just as well.
 ** Please note** photos are for hanging ideas only, please check measurements against your wall for correct proportions. 
View full details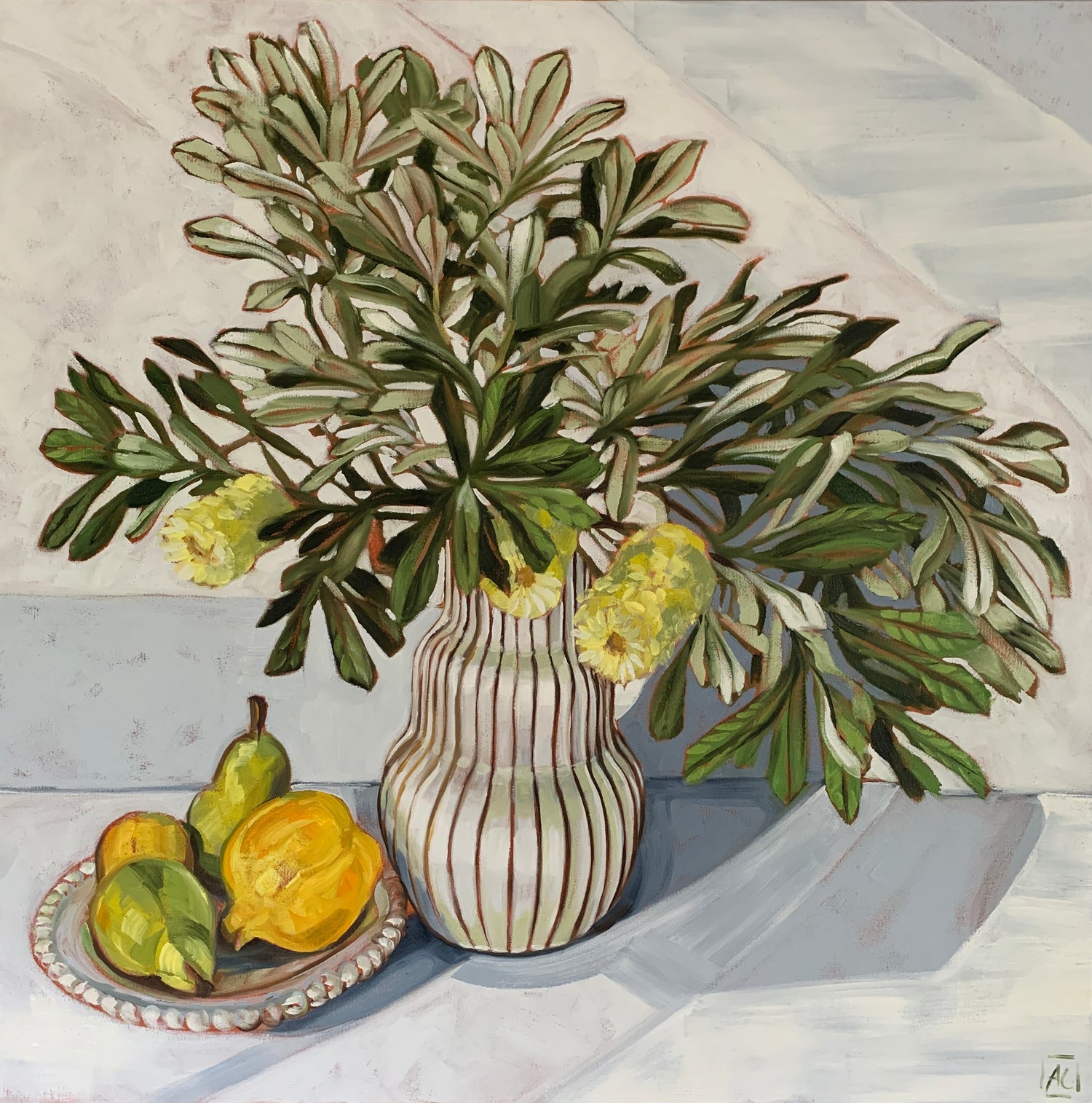 I am a featured artist with
ART LOVERS AUSTRALIA at the
AFFORDABLE ART FAIR MELBOURNE 2023